Availability:
In stock
Features:
Full metal construction
200 round capacity
Patent-pending Quantum Drive ensures every bb leaves the barrel at 240fps
Provides Superior Spread
Compatibility:
Power Source - Green Gas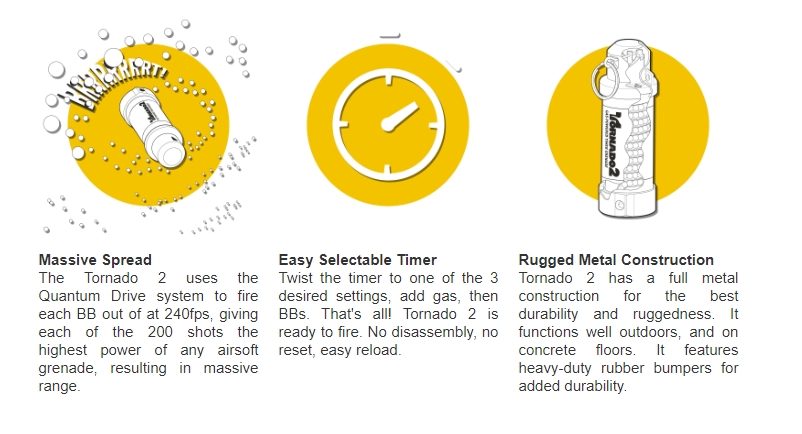 The Tornado 2 is the most powerful reusable airsoft grenade ever created. It contains a simple reliable timer, requires no disassembly and features tough full metal construction. It fires 200 BBs (more than any other airsoft grenade) at a blistering 240 FPS (more than 2x the velocity of all airsoft grenades) in a full 360° spread
MASSIVE SPREAD:
The Tornado 2 uses the Quantum Drive system to fire each BB out of at 240fps, giving each of the 200 shots the highest power of any airsoft grenade, resulting in massive range.
EASY SELECTABLE TIMER:
Twist the timer to one of the 3 desired settings, add gas, then BBs. That's all! Tornado 2 is ready to fire. No disassembly, no reset, easy reload.
RUGGED METAL CONSTRUCTION:
Tornado 2 has a full metal construction for the best durability and ruggedness. It functions well outdoors, and on concrete floors. It features heavy-duty rubber bumpers for added durability.
Rugged and Reliable

● Full CNC metal construction.
● Maintenance free, aside from some oiled gas.

Easy To Use

● No reset or disassembly whatsoever.
● Set timer, fill with gas, fill with BBs - that's all.
● Easy selectable delay 1-4 seconds.
● Uses regular BB loader.
● Runs on Greengas and propane.

Powerful and Effective

● Every BB comes out at 240fps. Most powerful reusable airsoft frag grenade ever made.
● Full 360deg spinning spherical spread with a range of 25ft.
● 200 BB capacity for maximum coverage.
● Actually reliable timer detonates on any surface (grass, brush, dirt, wood, concrete, etc).
● Fits in standard M4 pouches.
About Airsoft Innovations:
Airsoft Innovations is a product focused design and manufacturing house. They draw on their own experiences playing the game to create product that provide useful effect for their customers. Airsoft Innovations brought many iconic products to the community such as the Tornado Grenade, Cyclone Grenade, XL Burst and now the 40 Mike.
Includes:
x1 Airsoft innovations Tornado 2 Timer Frag Grenade - Gold
x1 Grenade lubricant.
x1 Manual and 1 x morale patch

Disclaimer: All aftermarket upgrade parts require necessary skill or modification to install and assemble, please consult with your airsoft technician if needed.