VACATURES
Recent zijn er bij ons 2 vacatures bijgekomen voor onze vestiging in Oostkamp.
1 / Winkelmedewerker M/V/X met talent in sales
Interesse? Kandidaat?
Airsoft Store is op zoek naar een enthousiaste winkelmedewerker M/V/X
Bij Airsoft Store speel je een cruciale rol in de dagelijkse werking van de winkel.
Jouw takenpakket:
De klanten helpen met een glimlach zodanig dat u zorgt dat de klant een aangenaam winkelmoment heeft

U zorgt er tevens voor dat de winkel steeds tiptop in orde is.

Telefonisch contact met klanten (NL, FR, EN)

U bent het visitekaartje van de firma.

Je verzekert een vlotte kassabediening

en

zorgt ervoor dat de rekken steeds aangevuld zijn.

Als

winkelmedewerker

ben je natuurlijk

all-round

,

je helpt dus ook met leveringen lossen en wegplaatsen, de producten

op

de

schappen plaatsen

en verzendingen voorbereiden van de webshop.

Technische vaardigheden worden aangeleerd on

the

job m.b.t productkennis /

product

combinaties en handelingen

.
Jouw profiel
Je behaalde een diploma secundair onderwijs of

gelijkwaardig door

ervaring in

de

verkoop

en een aangeboren talent in sales.

U spreekt perfect Algemeen Nederlands.

U hebt een verzorgd voorkomen.

U kan zich goed uitdrukken in het Frans en Engels.

Kennis van Airsoft gerelateerde producten is een pluspunt maar geen vereiste, dit kan eventueel aangeleerd worden bij de interne opleiding.

Voor jou komt de klant op de eerste plaats. Een vriendelijk en klantgericht optreden is vanzelfsprekend.

Je steekt graag de handen uit de mouwen en werkt nauwkeurig.

Je ziet steeds werk en neemt het initiatief om dit werk te doen, een hands-on mentaliteit.

Je bent een echte

team player

en bent open-minded in de relatie met uw collega's.

U hebt weinig sturing nodig en volgt steeds de a

anbevelingen van de sales verantwoordelijke op.

Z

aterdagwerk vormt voor jou geen probleem.

Door onze producten en het

mogelijks

hanteren hiervan dient er een recent geldig bewijs van goed gedrag en zeden (

uittreksel uit het strafregister

) overgemaakt te worden voor u zich eventueel kandidaat kan stellen voor deze functie.
Wat bieden wij?
Je komt terecht in een stabiel

en

snel

groeiend

bedrijf.

Je krijgt een opleiding

on

the

job m.b.t. productkennis, handelingen en het softwaresysteem.

Bij ons wordt een gezond en goed initiatief in dank afgenomen.

Voltijdse of deeltijdse tijdelijke

tewerkstelling (in overleg)

met optie vast.

M

arktconforme

verloning aangevuld met extralegale voordelen.

Wekelijkse openingsuren

:

(

Dinsdag tem Zaterdag

van 10

u

-12u & 13u – 18u30)

De winkel is gesloten op zondag, maandag en feestdagen.
Job

gerelateerde competenties
Producten inventariseren

De kassa tellen, verschillen vaststellen en fouten corrigeren

De verkoopruimte en de producten in de afdeling onderhouden en schoonmaken

Producten naar een afdeling brengen Producten op rekken of schappen plaatsen

Betalingen ontvangen

De kassa bij het begin van de werkdag controleren De kassa-inhoud bij sluiting tellen

Opmerkingen van klanten verzamelen (onthaal, prijs, wachttijd, ...) De opmerkingen aan

de sales verantwoordelijke meedelen
2 / Flexijob voor de zaterdagen als technieker/sales M/V/X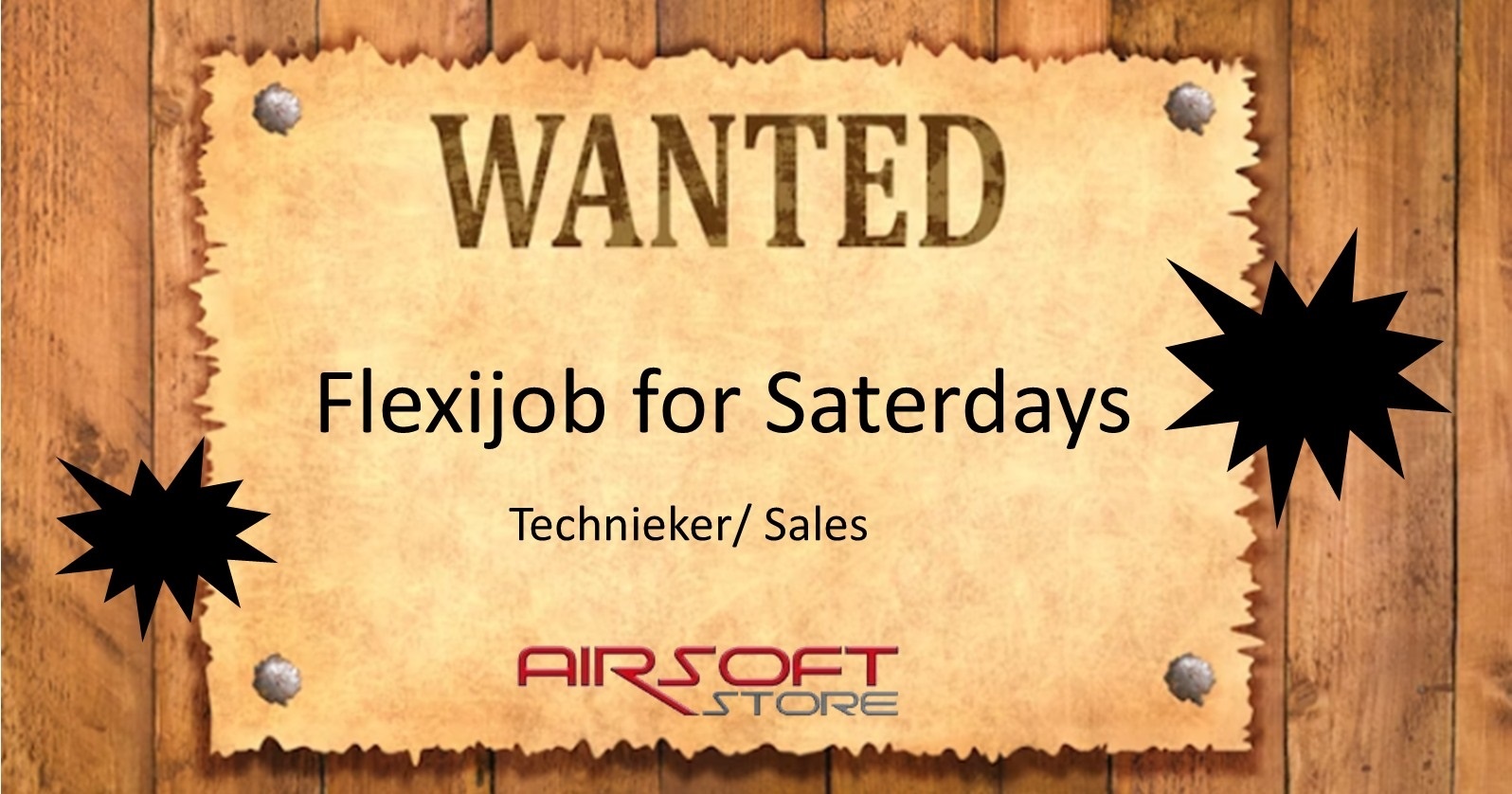 Uw kwalificaties : Een enthousiaste instelling en knutselen aan airsoft replica's is één van uw hobby's
Takenpakket :
* Hoofdtaak is technieker (herstellingen / up- & downgrades / customizations) van airsoft replica's
* Bijkomende taak : bijspringen bij onze andere activiteiten (zoals hulp en bijstand bij sales, bestellingen,...)
Een vereiste om als flexijob in onze branche te kunnen werken is minimum een 4/5 contract hebben bij een andere firma.
Werkuren : de zaterdagen van 10u-12u & 13u -18u30
Bij interesse stuur ons gerust uw CV, begeleidingsbrief met recente foto en een recent uittreksel uit het strafregister naar [email protected]  in een mooi opgestelde mail. Graag als onderwerp van de mail "vacature flexi job"
Hoe werkt onze selectieprocedure?
Richt uw CV, begeleidingsbrief met recente foto en een recent uittreksel uit het strafregister naar [email protected]  in een mooi opgestelde mail.
De selectie procedure bestaat uit de volgende items:
Fase 1 : De selectie gebeurt op basis van CV; begeleidingsbriefen uittreksel uit het strafregister met beperking van het aantal kandidaten.
Fase 2 : Het initieel gesprek met algemene voorstelling van de kandidaat en het bedrijf
Fase 3 : Het verdergezet gesprek.
Bij elke fase wordt er geëvalueerd als u de persoon bent die wij zoeken voor deze functie.
Om te kunnen overgaan naar de volgende fase dien je geselecteerd te worden als kandidaat voor deze job.
Moest u niet geselecteerd zijn om over te gaan naar de volgende fase, kan dit goed zijn dat er een kandidaat geselecteerd werd waarbij deze functie voor hem/haar op het lijf geschreven is.
Wij zijn vooral op zoek naar natuurlijke talenten in sales met de nodige kennis.
Als u in één van de fases niet geselecteerd werd als kandidaat, haal hier dan vooral motivatie uit om alsnog bij een volgende openstelling van een toekomstige vacature u opnieuw kandidaat te stellen. Tijd doet veel met mensen en het leven is een leerproces.
Indien u verdere vragen of opmerkingen hebt m.b.t. alles bovenstaande kan u reeds ons bedrijf een beetje leren kennen door onze kernprincipes van onze Code na te lezen op https://www.airsoftstore.be/nl/service/about/